Choosing the best online bookmakers might seem like a very easy task, right? Even with the smaller selection available from US friendly American bookmakers, it just doesn't sound that hard. You just ask other bettors where the "best" place to open an account is, and then you head there. But is it really that easy?
I love cheeseburgers. But if I ask you where the "best cheeseburger" that you have ever eaten is located, that doesn't guarantee that I will agree with you. Your taste in cheeseburgers may differ from mine. However, you and I almost certainly will agree on the components which make up the best online bookmakers.
Fast payouts, credit card deposit options, competitive lines and odds, achievable bonuses, reliability, and mobile access are all very important considerations. Those are just a few of the important features we have reviewed, which we have found over the years constitute the best online bookmakers for the US as well as non-US sports bettors.
We apply these same principles during all of our bookmaker reviews, including non-USA options such as UK bookmakers, Canadian bookmakers and Australian bookmakers.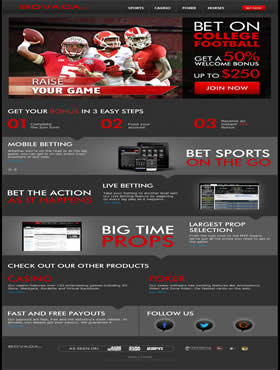 Best USA Friendly Bookmaker - Bovada

Not only is Bovada USA friendly, but they actually cater exclusively to American bettors, placing all their efforts and focus on providing a secure, high quality and strong wagering environment that understands what US players are looking for in online gambling options.
50% welcome bonus worth up to $250.
Casino, poker and horse race betting available
Legally licensed and regulated by Kahnawake Gaming Commission
High quality web based mobile sports betting application available
Live in-play betting options available online and through mobile app
Reliable deposit and withdrawal options with fast payouts
Bovada accepts players from all US states except New Jersey, Nevada, New York, Maryland and Delaware
Best Online Bookmakers For USA Players In 2023
Legitimate Licensing Will Identify the Best Online Bookmakers Every Time
Unfortunately, a lot of rookie Internet gamblers don't take all of these features into account when they are ready to enjoy some Internet sports betting. The first online bookmaker that catches their eye gets their business. And actually, we have seen seasoned sports betting individuals totally ignore an Internet sportsbook's licensing.
We did it ourselves when we first started out. But experience is a great teacher, and we found that the best online bookmakers all had one very important thing in common. They qualified for legitimate online sports betting licensing in a jurisdiction respected and recognized by the Internet gambling industry, rendering them as legal American online bookmakers.
Why do you think lawyers and doctors receive so much respect? Because people understand that their licensing came after years of study, dedication, and practice. That makes attorneys and doctors with degrees from respected institutions more attractive than their competitors. The same holds true with online bookmakers.
The Best Bookmakers Excel in These Important Areas
You may be thinking, "I don't know where the best online bookmakers receive their certification and licensing." No problem. There are a handful of online gambling governing bodies located around the world that have years of experience licensing Internet sportsbooks.
We have come to identify the online gambling license providers which are the most legitimate. They are all located in countries that are stable financially, where a virtual gambling industry has been legalized and certified.
Once we know that a virtual bookmaker holds legitimate licensing, then we review the other aspects which qualify the operation as one of the best online bookmakers or just another sports betting site.
We hang out in online gambling chat rooms and forms. We open "test accounts", check out the mobile experience you will be receiving, e-mail and chat with customer support teams, compare lines and odds, and ensure that a dependable and fast banking system is in place.
By reviewing these features, we discover the benefits you will only receive from the best Internet bookmakers.
Years in Business Is a Good Indicator of the Best Online Sportsbooks
Did you know there are a few virtual sports betting operations that have been in business for more than 20 years? That kind of staying power only happens if an online bookmaking operation is doing a lot of things correctly.
That operator has to be dependable and trustworthy but must continually be adding new technologies and sports betting experiences for its customers. A few of the best online bookmakers we have uncovered boast more than 20 years of experience delivering sports betting options to US and international players.
And while they could easily rest on their laurels and simply do just what they have been doing for years, they are consistently the leaders in innovation. This includes offering 25 team parlay payouts at 9,900 to 1, delivering live "in play" betting options, and consistently providing specialty bets.
They also give you the ability to wager on reality TV, entertainment, and politics, and always offer the best mobile experience. Continued effort is what makes them the best, and we think you will agree with our selections.
So to recap, if you are looking for the best online bookmakers, whether you live in the United States or beyond, identify legitimate licensing first. This is an absolute must.
Then you want to begin to look at other areas where a specific feature delivers important benefits to you. If you are on the go like we are all the time, enjoying full account access through an excellent mobile sportsbook experience is a must. And every sports bettor, whether a newbie or veteran, demands instant deposit access to their funds as well as speedy payouts.
Coverage for the NFL, NBA, NHL and MLB sports leagues are a given. But only the best Internet bookmakers will also cover rugby, soccer, tennis, boxing, NASCAR and other motor sports, and even micro-sports like darts. And the top operations will always deliver competitive or even "better than Vegas" lines and odds.
That is what this section of our website uncovers for you, and we would like to let you in on a little secret. These are the very same sportsbooks where we hold active accounts, so we might just see you at the virtual betting window.