"Are there any legal online bookmakers in the United States?" As the name of our website is American Bookmakers, we aim to answer the number one question residents of the USA have concerning making wagers online ... "Is Internet sports betting legal in the United States?" There is no quick answer.
Different states in the US have their own opinions, and the federal government has outlawed American businesses and financial institutions from delivering online sports betting services. But no bettor from the U.S. has ever been charged with placing a sports wager using a legally licensed online bookmaker.
Illegal companies set up in the United States are the target of state and federal legislation and not residents, to protect citizens of the US. Understanding the legalities involved here will definitely assist you in identifying the best USA online bookmakers on the Web.
Bettors in other countries do not face these same challenges due to the legal support offered through their governing jurisdictions. Good examples include UK bookmakers, Canadian bookmakers and Australian bookmakers.
Top Rated Legal Online Bookmaker For American Citizens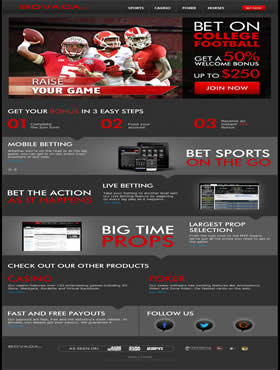 Bovada Sportsbook

As far as US friendly sportsbooks go, Bovada is hands down the premium option for legal online bookmakers accepting USA players. Because they only focus on US bettors, their entire operation circulates around the concepts of 'legal' and US friendly' sports betting.
New player bonus worth up to $250 on first deposit
Access to casino, poker room, racebook and mobile apps from one single account
Holds certificate of good standing from Kahnawake Gaming Commission
Sportsbook app offers full range of betting lines wagering options and features
Both online and mobile sportsbook deliver live betting and in play betting options
Boasts one of the most successful credit card transaction approval rates in the business
Bovada accepts players from all US states except NJ, NV, NY, MD and DE
Legally Licensed Online Bookmakers For USA Players For 2023
Identifying the Top Legal Online Bookmakers
So now that we know you, as a sports bettor, are not the target of any anti-gambling legislation, let's look at the online bookmaking laws that govern U.S.A. citizens.
The 1961 Federal Wire Act, the Unlawful Internet Gaming Enforcement Act of 2006 (UIGEA), and The Professional And Amateur Sports Protection Act of 1992 (PASPA) all have a bearing on those companies which are considered illegal or legal online bookmakers.
Very basically, a company cannot be located and managed in the United States and offer online sportsbook services to American citizens. Banks and financial institutions are also usually prohibited from handling transactions like deposits and payouts.
Let's take a closer look at the top legal online bookmakers where US sports bettors can safely and securely place wagers, and then we will cover each of the above three pieces of online gambling legislation. All of the brands that are covered in our bookmaker reviews are legally licensed and regulated brands that operate legitimately within the industry.
Is Online Sports Betting Legal in the US?
The three US laws we will cover later are aimed at the business side of Internet gambling. Fortunately, legal online bookmakers exist in places like Costa Rica, the United Kingdom, Canada, and other financially stable locations around the world.
Corporate industries have been developed that license and regulate legal online bookmakers to offer their legitimate services to US sports bettors, as well as international punters. The World Trade Organization (WTO) has even ruled that the US is in violation of its treaty obligations in regard to many non-US countries and municipalities by attempting to enforce its federal laws overseas.
While we are certainly not lawyers, it is our estimation as veteran online sports bettors that legal online bookmakers can be found operating legitimate and viable industries if you know where to look. That is why we recommend the short list of safe and secure bookmaking operations you see listed above, where we ourselves hold real money accounts.
The 1961 Interstate Wire Act Is Still in Play
In 1961 in the USA, the World Wide Web of today did not exist. And the only legal online bookmakers worked in Las Vegas. The "online" means of communication they used were telephones, cable communications, and other wired technologies.
The problem came when the Mafia-run Las Vegas casinos began to run gambling operations through communications outside of the state. The Federal Wire Act of 1961 is more clearly designated by its alternate name, the Interstate Anti-Crime Act.
Bobby Kennedy was the US Attorney General, and he helped pass this legislation, which was developed in the hopes of stopping organized crime from conducting illegal interstate gambling operations.
How does this affect and designate legal online bookmakers? It basically makes it illegal for US companies to use "wire communication facilities for the transmission in interstate or foreign commerce of bets or wagers."
When the Internet got cranked up in the early 90s, this is the major reason offshore (non-US) sportsbooks became the legal destination of American sports bettors.
What Is PASPA? (The Professional And Amateur Sports Protection Act)
With a name that sounds like a religious observance or a motorized scooter, PASPA is nonetheless a legislative package that has a bearing on the US sports betting industry online.
The Commissioner of the National Basketball Association (NBA), David Stern, joined Congress and the National Collegiate Athletic Association (NCAA) in attempting to insulate professional and amateur sports in America from organized crime.
Coupled with The Wire Act, this drove legal online bookmakers to offshore locations. However, Nevada, Delaware, Oregon, and Montana already offered state-approved and federally-recognized legalized sports betting in some form. Those states were allowed to continue their sports lotteries and wagering operations.
Just like The Federal Wire Act, the attempt was to keep US businesses from offering sports betting, online and off. How outdated is PASPA? Between 2009 and 2010, California, New Jersey, Rhode Island, and Iowa lawmakers sued the federal government, claiming PASPA unconstitutionally tramples states' rights to conduct and regulate their own business.
How Does the Unlawful Internet Gambling Enforcement Act of 2006 (UIGEA) Affect Legal Online Bookmakers?
This is the most recent piece of US federal legislation created to police online gambling. It is also the only one with the word "Internet" in its title. The United States Department of Justice interprets the UIGEA as basically a banking law. It officially "prohibits gambling businesses from knowingly accepting payments in connection with the participation of another person and a bet or wager."
Again, this is a law that seeks to protect the United States citizen, an honorable intention. But it actually further enhances the operation of non-US companies located outside of the USA to deliver legitimate and trustworthy Internet sports betting sites that cater to players from the United States.
And to this day, there are several legal online bookmakers which have risen to the height of the industry by providing reputable and dependable services, safe and secure software, and multiple player benefits and rewards.