It doesn't take long for an online bookmaker to develop a reputation, either good or bad. After only a few months in business, people start to speak up about what the site offers and how fast they are getting paid. Gamblers speak about their experiences; third-party reviewers give their impartial opinions.
In no time at all, a new site in business is either known as an up-and-coming player or a shoddy establishment on a steep decline. Luckily for GTBets, they earned a solid reputation right out of the gate.
Known widely for a straightforward brand of business that puts the customer first, GTBets is prized for its solid reputation of security, generous bonuses and promotions, excellent customer support staff, and a ton of different sporting options on which a person can bet.
With software partners like ArrowsEdge and BetSoft, GTBets doesn't simply offer plenty to bet on; they offer it in style. Betting with the site is a true experience like you're using a gaming console to bet on your sports. It's really an attractive, vivid site that's very entertaining.
From first-timers looking to wager on a sport they love to high-rollers looking to implement their betting strategies for a big payoff, GTBets accommodates all comers and is easily considered one of the top online bookmakers for US players.
GTBets General Information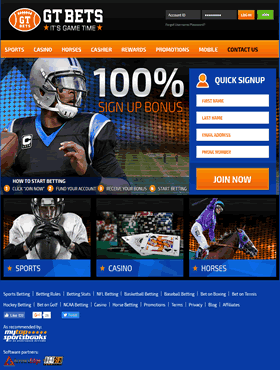 GTBets Sportsbook
A rising star in the industry, GTBets sportsbook offers a lot of reasons for players to open an account. Below are just a few:
USA friendly site
Considered one of the best sites for bonuses and loyalty rewards
Claim a 100% cash bonus up to $500 on your 1st deposit
Legally licensed and regulated in Curacao
Live in-play wagering available
Mobile friendly
Fast and reliable payouts guaranteed
Now accepting Bitcoin
GTBets Licensing Information Updated For 2023
GTBets is licensed and regulated by the government authority of Curacao. While located in the south Caribbean Sea, Curacao is actually an independent state of the Kingdom of the Netherlands, and its offshore status means that it can offer gambling to a US-based market and not have to worry about any repercussions from an anti-gambling federal government.
Though a small island down in the sun-soaked land of the Caribbean, Curacao takes its regulatory duties very seriously. They know if they allow a site to be crooks while under their authority, they ultimately lose that authority and thus lose a profitable venture. So sites regulated in Curacao are regulated very tightly, and there's no funny business afoot.
Learn more about licensing in our Legal Online Bookmakers section.
Banking Options Offered by GTBets
For a smaller sportsbook that's only been around a few years, GTBets has an incredibly progressive list of banking options that are sure to accommodate everyone who signs up. For starters, they offer the typical depositing methods of major credit cards, such as MasterCard and Visa.
There's also a Direct Cash option offered and even a pre-paid gift card that people can buy specifically for the site. Moving on to the e-wallets, members can deposit and withdraw their funds using Skrill and Neteller. Both of these options are free and are typically quite quick.
Where GTBets stands out, however, is in their latest addition to the payment pool with Bitcoin. Free, instant, incredibly secure, and not under any government authority, Bitcoin is the future of online exchanges and perhaps even the future of money, period.
Does GTBets Offer A Mobile Option?
Unlike a lot of sportsbooks that are stuck in the last generation's explosion of gambling applications, GTBets is also more progressive in this area. The site seems to be very customer-centered, as they have redesigned their entire network to cater to today's type of customers, and this also includes today's mobile customers.
Rather than having to take the time and space to download a specific mobile version, people using a mobile device can simply click the "Mobile" tab and play a mobile version of the site from their device's browser.
And since this is a responsive design used by GTBets, you don't have to worry about any compatibility issues. In other words, if you have an iPhone, you don't have to worry about GTBets' software being Android-specific or vice versa. No matter which sort of OS your mobile device uses, you will be able to play and get a great experience at GTBets.
The Lines And Odds Offered By GTBets
Part of what it takes to be considered a great sportsbook is to offer the entire gamut of sports-betting options when it comes to building your site. This not only means offering a lot of sports; it also means offering a lot of line options. For instance, a sportsbook needs more than just point spreads and the over-under line if they truly want to compete.
A book is going to need parlay options, live betting options, proposition bets, and unique lines that go beyond the realm of just the moneyline and point spread. GTBets doesn't disappoint in this area. Although the site isn't very large, as in customer base, it offers lines and odds like it's the biggest site going.
The interface isn't as clean as we'd personally like it, which means navigating to find all these options can be a pain until you're used to the site's layout. But this is a very minor cosmetic gripe. When you break it down, there are plenty of line options offered by GTBets, along with very competitive odds.
Bonuses And Promotions Offered By GTBets
Whether a rookie or an experienced gambler, one of the first things people look for when they sign up with a new sportsbook is the welcome bonus. In this instance, the welcome bonus is rather lucrative.
You get a 100% deposit match bonus of up to $500. What sets this bonus apart from most other sites is that the bonus is a cash bonus compared to a free-play bonus.
There's also a secondary bonus for your second deposit if you end up making one. With this bonus, you can get a 50% deposit match of up to $250. It's rarer in today's world to find a site that's willing to offer two of these bonuses. GTBets wants you to stick around, and they're willing to make it lucrative to do so.
Other promotions offered by the site include reload bonuses, a refer-a-friend program, the $50,000 parlay challenge, a casino and horse racing rebate, and more. Their promotions change regularly, and the site is always offering something of worth to its loyal customers.
Betting Options
In terms of your betting options at GTBets sportsbook, there are a lot from which you can choose. All of the major sports are, of course, offered front and center. The NFL, NBA, MLB, NHL, and NCAA sports are on full display. But they also have plenty of soccer leagues, MMA action, horse racing, Olympic events, cricket, Aussie rules, and much more.
Basketball is the site's biggest draw right now but this changes depending on the sport. For instance, when March Madness starts with NCAA basketball, the site will likely feature this sport and have specials and rebates running. The same with the Olympics next summer, the World Cup, etc.
While you will always be able to find all sorts of sports with GTBets, they really tend to focus on what's popular at the moment. For gamblers looking to wager and win, this is actually a really good thing.